Diesel cook top/heater combination- Wallas (800DSL/220D)
Diesel cook top/heater combination- Wallas (800DSL/220D)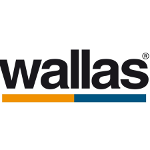 Diesel cook top/heater combination- Wallas (800DSL)
The 800DSL cook top/heater combination is great when space is a problem. This cook top operates with ultra low fuel consumption (0.9–1.9 litres per 10 hours) and uses less power than a standard anchor light (0.6 amp per hour).

Including the exclusive heater lid with the stove provides a clean, efficient heat source. When you're ready to cook, just open the heater lid! After cooking, just close the heater lid to protect the hot surface and deliver controlled, warm, dry heat to your cabin.

The 800DSL model features the Wallas Design ceramic surface, making it easy to clean and comfortable to use.

If you have a diesel engine, it is very convenient to pick up the diesel for your stove from the main tank with our fuel pickup tube.
It's safe: no exposed flame, no moisture added to the cabin, and non-explosive fuel.
Themostat control included.
Counter space required: 13in x 12.5in (12in below counter, 12in above counter)
**Price does not include the install kit.