Quantum Q24W,18in, (Wi-Fi Only),10m Power Cable-Raymarine (E70344)
Quantum Q24W,18in, (Wi-Fi Only),10m Power Cable-Raymarine (E70344)
* Prices are in Canadian dollars. Taxes and shipping not included.

MINIMUM MAP PRICE (MAP)- PLEASE CALL US AT 450-291-3170
Quantum Q24W 18" (Wi-Fi Only) w/ 10m Power Cable (E70344)
Raymarine Quantum Radar, by FLIR, is the next generation of marine radar featuring CHIRP pulse compression technology.
Superior Radar Imaging : 
FLIR's exclusive ATX™ advanced target separation technology displays targets like boats, landmarks, rocks, buoys, and weather cells with unsurpassed resolution and separation quality
CHIRP Pulse Compression
Excellent short-range detection and enhanced target detail with 18' (6m) minimum range
CHIRP Pulse compression ensures more energy reaches each target, resulting in superior imaging on long ranges (24NM-44km)
1 Day marker target at close range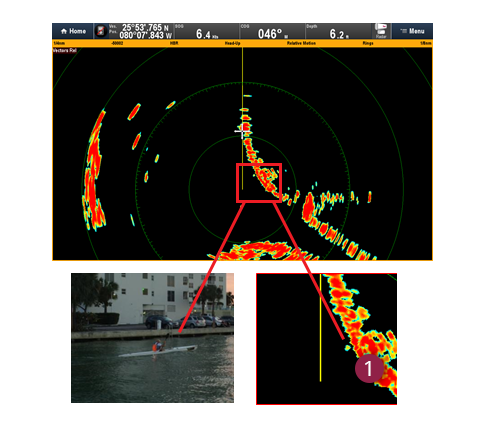 Small Target Detection
Quantum's CHIRP Pulse Compression technology identifies small, weak targets, even when positioned close to strong returns. EX: Quantum detects the small kayak very close to the waterfront bulkhead
Immediate Awareness
Quantum solid-state technology is ready to use in seconds, without any lengthy warm up period.
Simplified Installation
Simple Wi-Fi connection between Quantum and any Raymarine LightHouse II powered MFD
Quantum's small diameter power cable (10m included) is easy to route through tight spaces
Easy to upgrade – Quantum uses the same bolt pattern as previous generation radars. Optional Quantum adapter cable eliminate the need to run new radar cables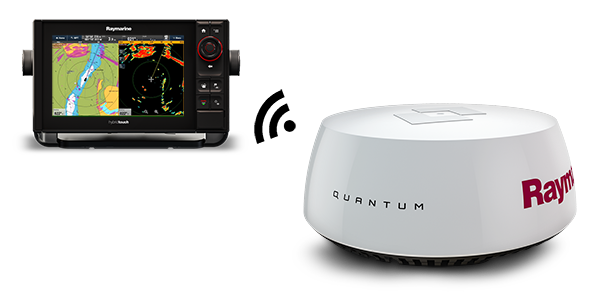 Energy Efficient and Lightweight Design
Weighs 50% less than traditional magnetron radars
Safe Emissions thanks to Quantum's low power solid state radar transmitter
Very low power consumption (17 Watts transmit and 7 watts standby)
Extended vessel battery life when under sail
GENERAL SPECIFICATIONS

Input Voltage

12 or 24 Vdc (Min: 10.8V, Max: 31.2 V)

Networking

Wi-Fi or wired Ethernet (RayNet)

Antenna Type

Patch Array

Power Consumption

Transmit mode 17W; standby mode 7W; sleep mode 2W

Range

Scales From 1/16 to 24 nautical miles

Transmit Frequency

9354 to 9446 MHz

Peak Power Output

20W

Duplexer

Circulator

Pulse Widths (3 dB)

40 ns to 14.7 µs

CHIRP Lengths

400 ns to 20 µs

CHIRP Bandwidth

Up to 32 MHz

IF Bandwidth

26 MHz

Noise

Less than 4 dB

Max. Range Scale

from 1/16 to 24 nautical miles

Beamwidth (nominal)

4.9º horizontal and 20º vertical

Polarisation

Horizontal

Waterproofing

IPX6

Weight

5.6 kg (12.3 lb)