Concentrated Boat Soap & Wax 3 in 1-Mag (050)
Concentrated Boat Soap & Wax 3 in 1-Mag (050)
* Prices are in Canadian dollars. Taxes and shipping not included.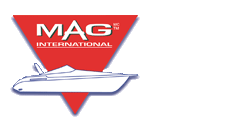 MFG : #050
1 L
Additional Freight Charges for liquids may apply
Concentrated Boat Soap & Wax - 2 in 1
CONCENTRATE SOAP  WITH ACRYLIC WAX
This concentrated soap with MAG wax gives an incomparable glossy finish.
NO AGGRESSIVE SURFACTANT
This product contains no aggressive surfactant and it does not remove long-lasting wax. It removes dirt and contaminants easily while leaving a thin layer of acrylic wax giving a glossy finish.
EASY TO USE
Pour 60 ml (2oz) of the ''Soap-Wax concentrate'' in a bucket containing 10 liters (2 gal.) of water and lather. Wet the surface that needs to be clean. Wash the boat with a brush, a sponge or a mitt, dipping frequently in soapy water. Rinse with clean water after washing each section of the boat to prevent the soap to dry.
BIODEGRADABLE
1L container