Rule-A-Matic® Float Switch- Max 14A
Rule-A-Matic® Float Switch- Max 14A
* Prices are in Canadian dollars. Taxes and shipping not included.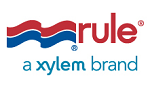 MFG: Rule 35A
Rule-A-Matic® Float Switch- Max 14A
Patent pending snap switch design
Highly abrasion resistant marine grade blocked wire
Exclusive moisture tight seals
Environmentally friendly mercury free design

Designed for pumps drawing up to 14 Amps.
The switch will turn the pump "on" when the water level reaches 2" (51mm) and will turn the pump "off" when water level falls to 3/4" (19mm). Can also be used to operate high water alarm system.