Rule® 500- Bilge Submersible Pump and switch(Rule 25-35A)
Rule® 500- Bilge Submersible Pump and switch(Rule 25-35A)
* Prices are in Canadian dollars. Taxes and shipping not included.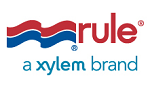 MFG: Rule 25-35A
Rule® 500- Bilge Submersible Pump and switch
Connections:

 For 19mm (3/4") bore hose.

Dimensions:

 99mm high, 64mm x 74mm.

Current Draw:

 1.6(amps)

Fuse Size:

 2.5(amp)

Output:

 Up to 31 litres/minute (7 gallons/minute) without check valve
Light, compact pump for ski-boats and small vessels
Tough plastic body with integral strainer
Quick release inlet strainer allows rapid cleaning
Low amp draw conserves batteries
Built-in Thermal Cut-Off. Motor rated for 1500-hour life
Check Valve included for Back Flow Prevention
Vented body to prevent air locking
Threaded port for easier installation and maintenance
Base not interchangeable with old range but can be fitted to existing screw holes
Rule-A-Matic® Float Switch- Max 14A
Patent pending snap switch design
Highly abrasion resistant marine grade blocked wire
Exclusive moisture tight seals
Environmentally friendly mercury free design

Designed for pumps drawing up to 14 Amps.
The switch will turn the pump "on" when the water level reaches 2" (51mm) and will turn the pump "off" when water level falls to 3/4" (19mm). Can also be used to operate high water alarm system.