FINAL FIX Adhesive- Inflatable Boat Repair -PVC & Hypalon
FINAL FIX Adhesive- Inflatable Boat Repair -PVC & Hypalon
Sizes
Colors
Selected Color: Gray
* Prices are in Canadian dollars. Taxes and shipping not included.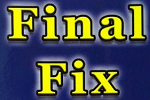 FINAL FIX Adhesive- Inflatable Boat Repair -PVC & Hypalon

FINAL FIX is the ideal adhesive. High resistance and durable, this product is made to repair your PVC or Hypalon inflatable boat. Also, use the FINAL FIX to seal and fix the portholes.  Useful to repair any other component that needs to be sealed.  Waterproof and UV-proof. Free of solvents, isocyanates and silicone.
Revolutionary product, simple, fast and effective application method!
Availale in Grey or Black-  One tube of 290ml-10oz