Wallas SPARTAN Diesel Heater- for boats 36ft and more
Wallas SPARTAN Diesel Heater- for boats 36ft and more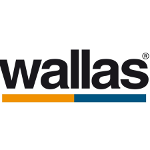 Wallas SPARTAN Diesel Heater- for boats 36 ft and more
The Spartan has the option of floor mounting or wall installation with a heavy duty bracket included. It boasts very low surface temperatures on the body of the unit and exhaust pipe making it extra safe.
This latest 12v model has the advantage of only requiring a low voltage startup requirement of just 10 V and has the latest Greenboost burner for more efficient and clean burning using just 0.16 – 0.46 litres/hour. The fans are RPM controlled fans for optimal performance and the unit has a new PCB and advanced control panel. It has Intelligent temperature control for optimizing heating and fresh air also.
The Spartans New advanced control panel has Bluetooth / WIFI connection – this makes it simple for program updates & has future option for revolutionary program changes. There is also the option for a detachable Bluetooth thermostat beacon so your heater can get the heat sensing from anywhere in the boat.
There is also a New App for Spartan Air / Twin Air that is available from the app store or on Google play. It gives you control your Wallas from anywhere of your boat. You can also see the usage hours and number of starts. Also you will get service reminders and have the option to troubleshoot easier with intuitive troubleshoot helper.
Enhanced low voltage control
Unit has a new PCB and advanced control pane
Very low surface temperatures in unit and exhaust pipe can fitted inside the cabin
New advanced control panel has Bluetooth / WIFI connection
RPM controlled fans for optimal performance
Program updates. Future option for revolutionary program and controls
Wallas Application control by WLAN and Bluetooth network
Floor or wall installation option
Intelligent temperature control for optimizing heating and fresh air
Detachable Bluetooth thermostat beacon (optionnal)
4800-15 500 BTU's
4500 Watts
Boat Length: 36 feet and up
Dimensions: 
Width: 16-5/8 in
Height : 12 in
Depth: 6-1/2 in
**Note: this price does not include install kit