Quick Handheld Windlass Remote Control- HRC1002
Quick Handheld Windlass Remote Control- HRC1002
* Prices are in Canadian dollars. Taxes and shipping not included.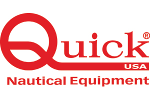 Quick Handheld Windlass Remote Control- HRC1002
Patented and maintenance free designed for remote operation of various on-board electrically operated equipment such as cranes, gangways, windlasses, sea ladders etc.
The HRC is constructed with rubber inserts to ensure high strength, long durability, perfect water tightness, and a secure grip. 
These units are supplied complete with a connecting cable extensible up to 4.2 meters, a watertight deck plug and socket, and a support bracket for stowing after use.