Windlass Footswitch DOWN for -Quick 900
Windlass Footswitch DOWN for -Quick 900
Colors
Selected Color: White
* Prices are in Canadian dollars. Taxes and shipping not included.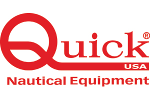 Windlass Footswitch DOWN for -Quick 900
The Quick 900 is a footswitch that is used for operating the windlass in LOWERING the anchor.
It is equipped with a safety cover to prevent accidental push-button operation.
This unit is sold complete with the footswitch, screws and mounting template.