Isotherm Ice Box Conversion Kit CC 2501 (7.0 cu. ft)
Isotherm Ice Box Conversion Kit CC 2501 (7.0 cu. ft)
* Prices are in Canadian dollars. Taxes and shipping not included.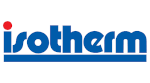 **ADDITIONAL FREIGHT CHARGES MAY APPLY
**SPECIAL PRICE UNTIL QUANTITIES LAST
Isotherm Ice Box Conversion Kit CC 2501 (7.0 cu. ft)
Isotherm Refrigeration Systems are easy to install and come complete with everything you'll need to convert your old ice box into a efficient, low-power consumption refrigerator.
Air-cooled Compact System
Fridge or freezer use
12 / 24 V Danfoss/Secop compressor
Universal kit AC / DC optional for a complete power supply compatibility (12 / 24 V, 230 / 115 V and 50 / 60 Hz)
Easy installation thanks to "click-on" system
Evaporator: Medium-O
Dimensions Evaporator H x W x D (inch):  10.6 x 15 x 5.5
Max. Box Volume Fridge (cu.ft.):  7.1
Max. Box Volume Freezer (cu.ft.):  2.3