Clamcleat Vertical Nylon (6mm-12mm-1/4-1/2)- Clamcleat CL201
Clamcleat Vertical Nylon (6mm-12mm-1/4-1/2)- Clamcleat CL201
* Prices are in Canadian dollars. Taxes and shipping not included.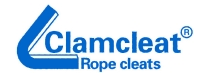 Clamcleat Vertical Nylon (6mm-12mm-1/4-1/2)- Clamcleat CL201

With the Clamcleat® CL201 the rope drops down into the teeth to give a quick and positive lock that is easy to release. The CL201 is manufactured from UV resistant nylons, making it cost effective and ideal for holding rope in an outdoor enviroment. This simple design is ideal for boats, flag poles, tubes and farm equipment. 
Specifications   
Rope Diameter : 6mm to 12mm - 1/4 to 1/2 in
Material: Black Nylon
Hole Centres: 72mm- 2-13/16 in
Length: 95mm - 3-3/4 in
Width : 28mm- 1-1/8 in
Height: 35mm- 1-3/8 in
Weight : 43g-1.5oz